Contributor: Rachel Allmand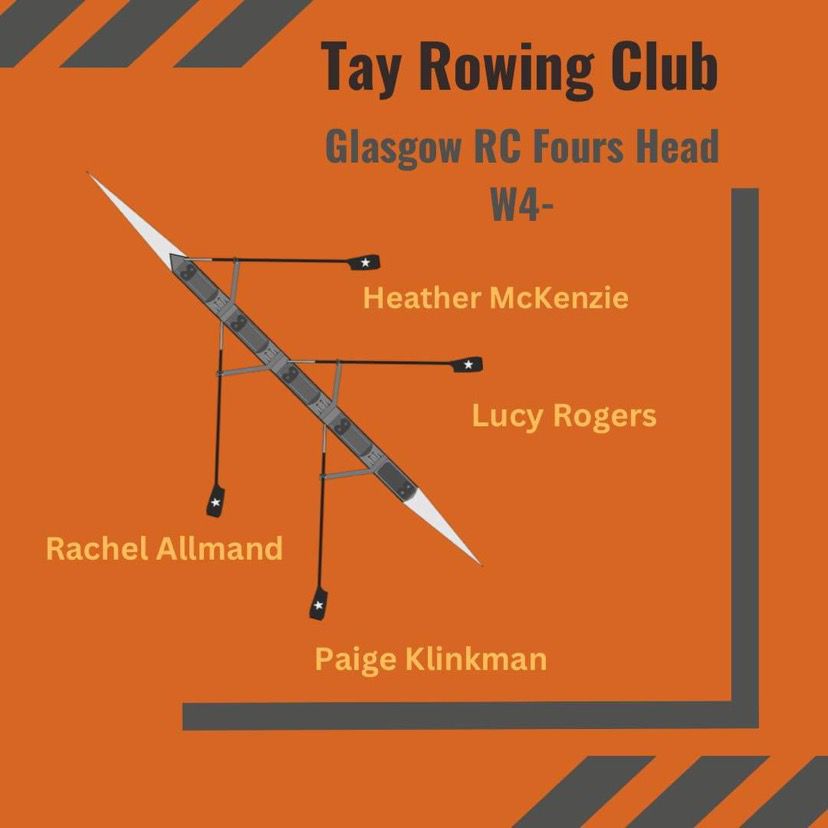 A grey and grizzly start to the morning at Glasgow Rowing Club brought the news that the 5.3km Head of the River course had been shortened to 3km due to swells on the Clyde making for less than favourable conditions.
The crew from Tay RC racing in the W4- category; Klinkman (stroke), Rogers (Captain), Allmand and Mckenzie (Bow), felt somewhat conflicted at the news having prepared for the long slog, however the opportunity to switch to a flat-out sprint was ultimately well received.
Only two boats in the W4- category, with a crew from Glasgow Academy fielding the other boat on the course. Glasgow Academy set off first from the rolling start, with Tay set off to chase moments later.
Quickly the crew built the stroke rate, with Rogers calling for an immediate push on the legs to get the boat shifting. Bridges fell away with Mckenzie steering the crew from the bow seat through the best lines, slingshotting the four into the fastest water across the bendy course.
The gap between Glasgow Academy and Tay RC closed significantly in the mid-section, however Glasgow Academy mustered a push to reopen the space between the two boats.
Finally, Kings Bridge appeared overhead with it an opportunity to take advantage of a decent straight stretch into the finish line. Rogers called for the rating to be brought up for the final push, with Mckenzie hugging the bank for the best line, driving the boat home for a total time on the course of 9:31.
Three cheers for the Glasgow Academy W4- for putting out a cracking time of 9.01 on the course.
Many thanks to Glasgow Rowing for the warm welcome and well organised day. Tay RC thoroughly enjoyed its visit to the Clyde.