Race Report – 5th February 2023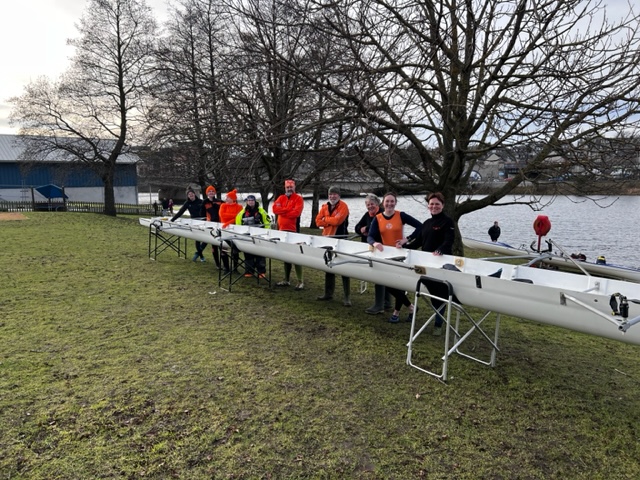 It was a bright but cold start to the morning in Aberdeen as Tay RC commenced boat re-building ahead of the Aberdeen 8s Head of the River Race. Crews assembled from all of Aberdeen's boat clubs; Aberdeen BC, Aberdeen University BC, Robert Gordon University BC and Aberdeen Schools BC, with Tay being the only visiting club. Thankfully, the welcome was as warm as the lovely ABC clubhouse.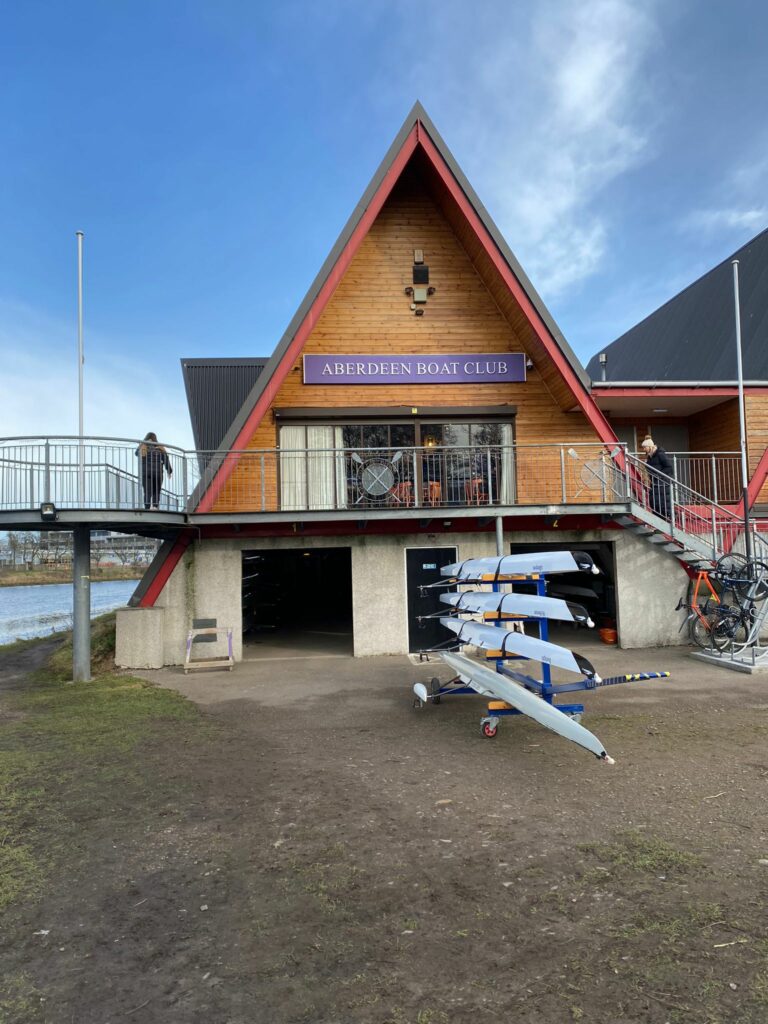 Tay RC fielded a mixed 8 comprising of Klinkman (stroke), Roger, Barrowman, Hughes, Smith, Millns, Allmand and Scott (bow) and coxed by Harper.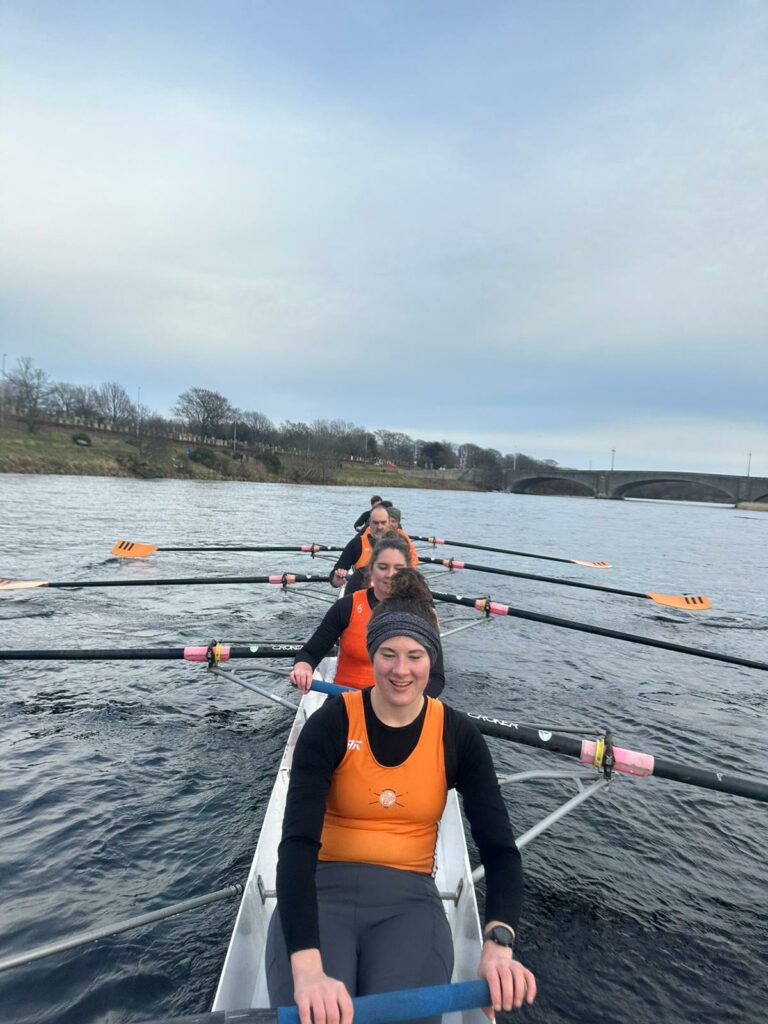 Before long the Marshal called upon Tay RC (Boat Number 95) to commence approach to the start line in preparation for a rolling start. As the boat found its line towards Victoria Bridge the blast of the whistle came – they were off!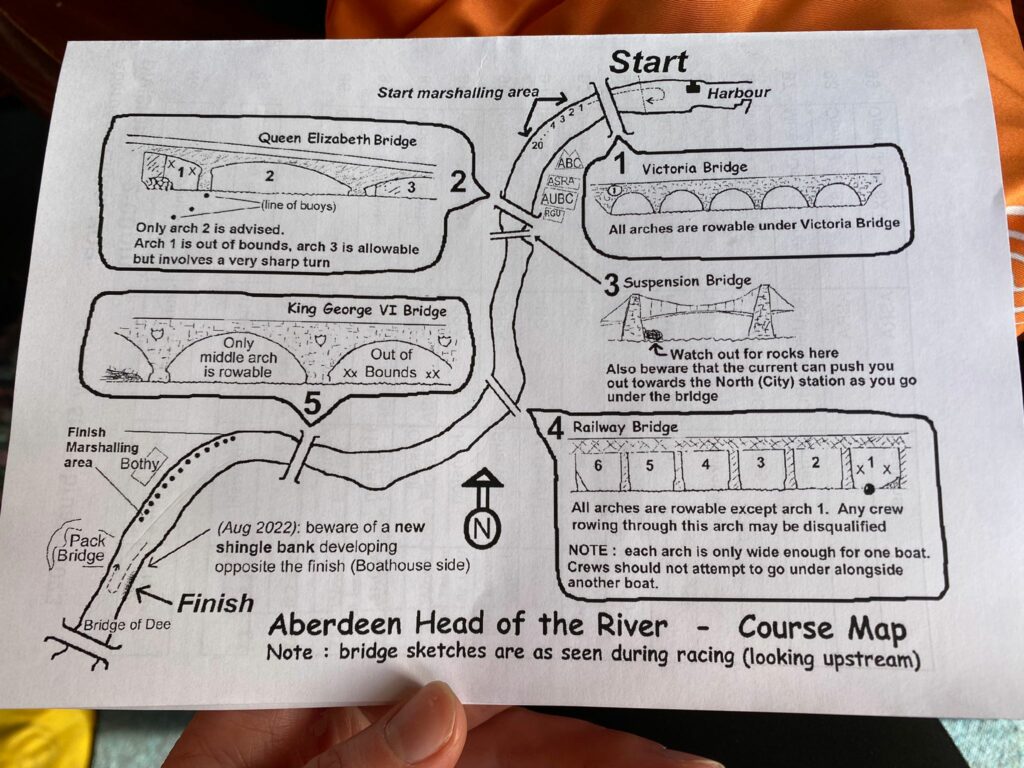 Cox called for pressure on the legs to switch the crew into race pace and the boat started shifting its way down the Dee. The first corner fell away quickly, with Tay pushing their advantage to their preferred line under the QE and Suspension Bridges.
A mixed AUBC / RGUBC crew from 2 boats back blasted through the field taking both Tay and a fellow AUBC / RGUBC mixed boat through the second bridge. Tay remained composed and worked to keep the overtaking crew within touch, but a headwind picked up ferociously on the course bringing choppy waters and challenging rowing.
Tay worked not to concede too much water, with Harper driving the crew on through the final stretch to the finish line and Klinkman setting a quick stroke rate to keep the boat grafting. Alas some confusion as to the exact location of the finish line made it not quite the pageant finish Tay would have preferred but a solid effort given by all for a total time of 16.16 on the course and a third place finish!
Special mentions should certainly go to Harper for coxing her first competitive race and Hughes on his first race outing.
Heartfelt thanks to Aberdeen Boat Club for organising a cracking day out on the Dee – thanks for having Tay RC.